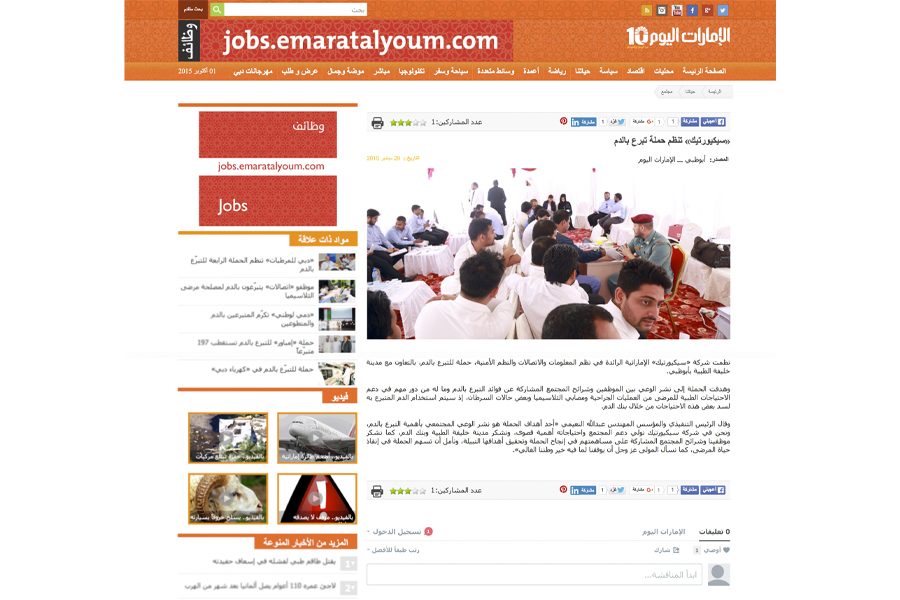 SecureTech HQ, Al Nahyan Area, Abu Dhabi, Sep-20, 2015, – SecureTech LLC, concluded a blood donation campaign as part of its Corporate Social Responsibility Program today, under the supervision of Sheikh Khalifa Medical City. SKMC brought in the mobile blood collection unit and SecureTech facilitated the rest of the facilities in its HQ.
The management and staff of SecureTech fully supported the cause by participating along with other organizations showing their commitment to this noble cause by participating in this campaign as special invitees by the management of SecureTech.
The donation is a substantial social contribution, which is very important for those who are in need of blood, due to various medical and accidental conditions. SecureTech's commitment towards this social cause was fully evidenced by the full hearted participation of its employees and management.
In a company statement, Dr. Abdulla Al Nuaimi, Founder and CEO of SecureTech, said "It is our commitment to the society and needy, as a responsible corporate, to support such efforts of good will, to save lives by donating blood. The response for such a call was well received and saw overwhelming participation from our employees, neighboring corporates and people from different walks of life. We thank each individual donor for being part of this noble cause" he concluded.
SecureTech is one of the largest companies in the United Arab Emirates, 100 percent locally owned and is a leading systems integrator providing diversified solutions in the physical security and ICT Domains. In the past decade, SecureTech has delivered some of the largest and most complex physical security and ICT implementations in the region. SecureTech has an end-to-end delivery team of professionals and a very vast and unique range of international partnerships to deliver cutting edge technology regionally, supported by a strong workforce of over 400 staff locally.
link: http://www.emaratalyoum.com/life/society/2015-09-29-1.825296